Our Students
For previous students in our program, click here.
2022-23 Students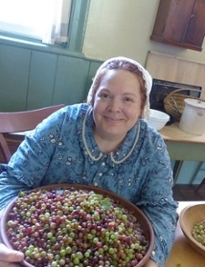 Kathrine-Mackenzie Bodnar delights in bringing history to life through foodways programming. She spent the first part of her professional life working as a Career and Employment Counsellor, but as a self-proclaimed "history geek" she always dreamed of working in museums. To that aim, she began to volunteer with a historic cooking group in a pioneer village where she completed hearth and woodstove training that qualified her as a costumed demonstration cook.

In 2016 Kathrine decided to transition careers and enrolled in a post-graduate program in Culture and Heritage Site Management at Centennial College. Upon completion, she obtained a series of administrative contract positions that included work in archives, policy writing, and workshop development. To improve her cooking skills, Kathrine obtained a Certificate in Baking and Pastry Arts through George Brown College and a diploma in Culinary Management from Durham College. The City of Toronto Museums acknowledged her work in foodways programming with an award of 'Leadership Excellence'. This work included public cooking demonstrations, cooking workshops, and historically themed dinners and teas.

Because of her Indigenous heritage, Kathrine has an interest in promoting the often-invisible histories of Indigenous peoples in Canadian museums. In 2019 she took a sabbatical to complete a degree in Indigenous Studies from Trent University, graduating in 2022 with an Honors B.A. and inclusion on the President's Honour Role. She eagerly looks forward to further developing skills that will enable her to deliver history to the public in engaging and meaningful ways.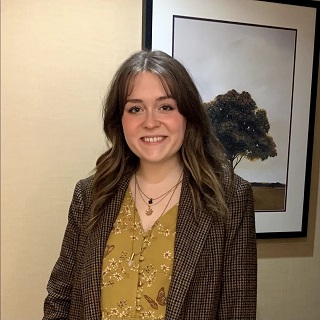 Jessica Hugh graduated in Spring 2022 with distinction from The University of Toronto with an Honors B.A. in History and International Relations. Upon graduation, she was awarded the William Kilbourn Prize for her academic achievements and intent to continue studying Canadian history. Throughout her undergraduate degree, Jessica volunteered with Peace by PEACE, a non-profit community building program for elementary school students. As a teaching mentor, she developed a passion for hands-on learning, which further prepared her for work in the public history sphere.

Jessica's research pays special attention to the ways in which Canadians are taught and understand their history, and how this impacts the development and maintenance of national identities. During her time at Western, Jessica hopes to expand her research interests and study how Canadians interact with their own history, whether through school curricula, national parks, or museums.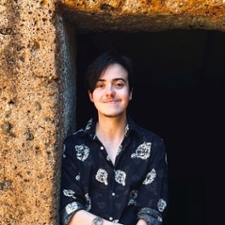 Niġel Klemenčič-Puglisevich graduated from Carleton University in 2022 with a combined B.A. (Hons.) in History and Greek & Roman Studies with minors in Archaeology and Medieval & Early Modern Studies. His research interests primarily surround his family's home country of Malta, its archaeology, its museums, and the repercussions of centuries of colonization on the archipelago. Moreover, he is interested in public archaeology and how community interaction with archaeological heritage can influence identity. In the summer of 2022, he pursued a research project in Malta funded by Carleton University entitled "(De)Colonizing Heritage: Colonial and Imperial Roots Shaping Cultural Heritage in Malta."

Niġel has worked in museums since 2015 and his passion for the field has only grown over the years. His career first started in his hometown at Clarington Museums & Archives, and he has since gone on to work at several other public history institutions in different capacities, mostly in collections, exhibitions, and digitization. Throughout his undergraduate degree, he worked as the Collections Manager at the Museum of Classical Antiquities (University of Ottawa), where he helped lead many new projects in digitization, exhibitions, and accessibility. Throughout his professional career, he focused much of his effort into developing skills that can help museums become more accessible, welcoming, digital, and community centric. His passion for archaeology has also led him to work with the Gabii Project (located just outside of Rome, Italy) for two summers, where he had the opportunity to work with peers to analyze, date, draw, and document the site's Roman and pre-Roman finds.

Niġel is excited to expand his experience with public history at Western and to learn so much more about the potential the field has to offer.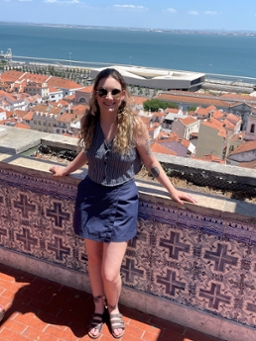 Hannah Mantel graduated from The University of Ottawa in 2021 with an Honors B.A., majoring in History and minoring in French as a second language. Through her undergraduate courses, Hannah focused on themes of Racism and Empire, the Holocaust, and the First and Second World Wars. Her first engagement with public history was at the Port Burwell Marine Museum where she accessioned and handled artifacts, and created and rearranged displays. Hannah took her passion for public history to the Beachville District Museum, where she gained additional skills in the field of public history through creating social media content and conducting artifact-based research. In the summer of 2021, she was employed as Beachville's Collection Manager where she became responsible for rehousing hundreds of artifacts in the museum's storage facility.

From 2020 to 2021, Hannah Mantel participated in the University of Ottawa's Undergraduate Research Opportunity Program (UROP), where she assisted Professor Serge Durflinger with his research regarding the Veterans' Guard of Canada. Hannah is looking forward to gaining additional skills and experience with public history and is very excited to collaborate with other students and professionals to gain a deeper understanding of the field.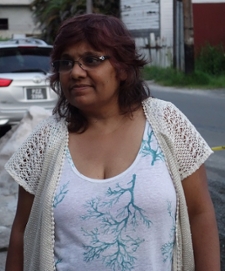 Zahra McDoom graduated from Wilfrid Laurier University (2003) with a Masters of Social Work, from the University of Western Ontario (2000) with an MA from The Centre for the Study of Theory and Criticism, and from the University of Toronto (1997) with a B.A. (Honors) specialist in the Study of Religion and major in Humanities and Psychoanalytic Thought.

Zahra worked in the field of social work engaging with primarily marginalized peoples through community organizations and most recently with the Thames Valley District School Board (London) supporting students through advocacy, counselling, and education. She has always maintained an interest in memory, absence, loss and relics produced by colonialism and its diaspora, looks for traces and connections to cultures of the Caribbean in everyday Canadian landscapes, and enjoys growing her knowledge of gender and queer theory.

Zahra volunteered with the Collections Department at London's Fanshawe Pioneer Village working to digitalize artifacts, catalogue recent acquisitions, and perform simple artifact cleaning and conservation. She looks forward to enhancing her archival skills to trace forgotten and misrepresented histories of everyday people and objects and is enthused to participate in exhibit design.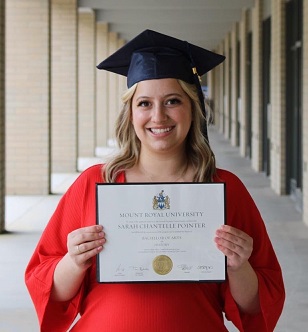 Sarah Pointer graduated from Mount Royal University in 2021 with a B.A. in History, double minoring in Business and Indigenous Studies. During her degree, Sarah's research focused on the intersection of environmental and social histories to understand the role of the Canadian Government in the dispossession of Indigenous peoples from their lands to create our parks systems in the 19th and 20th Centuries. Her research is guided by the principles that research should be interdisciplinary, collaborative, and community-minded.

Her passion for the history of parks was ignited while working for Parks Canada as a Visitor Information Program Student. Sarah further explored this passion for parks while attending the American Civil War: History and Memory Field School and continued to study parks as a Research and Collections Assistant for Buffalo Nations Museum.

Sarah also worked as a research assistant on a Stoney Nakoda lead research project, Enhancing the Reintroduction of Plains Bison through the inclusion of cultural monitoring and traditional knowledge in Banff National Park. Here she conducted research, transcribed oral histories, and co-authored a final report. This solidified her passion for working on collaborative and community-minded research. Currently, Sarah works for Writing-on-Stone / Áísínai'pi Provincial Park, as an Information Officer where she works to share natural and cultural history.
In the future, Sarah hopes to work as a Historian for Parks Canada. She looks forward to assisting with projects that centre collaboration and interdisciplinary knowledge in the areas of environmental and social histories.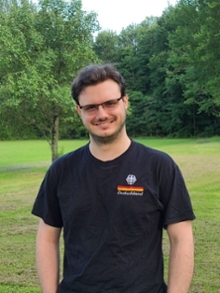 Jesse Sturgill is an international student from Ohio, U.S.A, having graduated from Wright State University with a B.A. in History in 2019 with a Magna Cum Laude. His research examined the controversial forced resignation of the Chair of the Dayton State Hospital over a series of patient deaths in the 1970s and pointed to the main role that decreased funding and overcrowding as a result of insufficient federal funding of asylums had in this case.
Jesse has worked in several other capacities as a public historian, helping research the history of the Air Force Institute of Technology at Wright Patterson Air Force Base, performing the role of living history assistant at Carillon Historical Park open air museum complex in Dayton, Ohio, and interning at the Wright State University Special Collection & Archives where he helped digitize the collection and translate German microfilmed records.
His main interest is local history, with a particular focus on previously marginalized voices and misrepresented history. As he joins Western's public history M.A. program, Jesse looks forward to learning more about the practice of oral history and the design and creation of exhibits for the general public.