Laurel Shire
- Associate Professor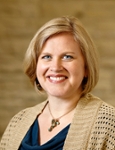 Telephone: 519-661-3645
Email: lshire@uwo.ca
Office: Lawson Hall 2226
Office Hours: Fall 2023: Wednesdays, 1 pm - 2:30 pm                                                                                                                          Winter 2024: Mondays, 1 pm - 2:30 pm                                                                                      (Available on Zoom or In person, and can make appointments at other times if reached via email)
---
Research Interests
Professor Shire is a social and cultural historian whose research focuses on the United States in the nineteenth century, especially the relationship between race, gender, and U.S. expansion. Her research connects scholarship on North American borderlands, Western and Southern U.S. history, the Atlantic world, Native and African American studies, and women's history.
---
Teaching Philosophy
I enjoy teaching all aspects of the American past that touch on the ways that different people shaped it, especially marginalized groups. I want students to engage with historical content as well as criticism, and to immerse themselves in the culture of the past. I strive to be an accessible and compassionate teacher while also maintaining high expectations. Effective and imaginative teaching requires empathy, and encourages students to engage with a variety of material, and to develop stronger research and writing skills. All of my undergraduate courses address historiography and teach students how to engage with primary sources. I also support student development as writers and make myself available to discuss strategies for improvement.

I welcome inquiries from prospective graduate students and I am happy to supervise MA students and PhD comprehensive exams in US social and cultural history in the 19th and 20th centuries, particularly those interested in race, gender, sexuality, and settler colonialism. I have recently supervised MA projects in African American and women's history in the 20th century, including projects by Patrick Kinghan, Meredyth Dwyer, and Rachael Edwards. I am currently supervising PhD students working on histories of settler colonial regimes, including Carla Joubert, Brigette Farrell (co-supervised with Geoff Read at Huron UC), Liam Clifford, and Shaun Hislop. I have also directed many doctoral comprehensive exams in U.S. history and in histories of colonialism, race, gender, sexuality, and labour. If you are considering entering a PhD program in US history, you should read recent reports about what PhD graduates in History are doing with those degrees, see reports from the CHA (link to https://cha-shc.ca/publications/cha-committee-on-the-future-of-the-history-phd-in-canada-report/) and the AHA (link to https://www.historians.org/research-and-publications/perspectives-on-history/november-2022/four-more-years-a-where-historians-work-update).
---
Major Research Projects
Dr. Shire's first book was published in 2016.The Threshold of Manifest Destiny: Gender and National Expansion in Florida argues that American political leaders leveraged gender norms – not only masculinity but also femininity – in order to Americanize Florida, setting a precedent for U.S. policy in many subsequent frontier zones further West. They used white women's presence in Florida to justify violence against Seminole peoples and to rationalize generous social policies for white settler families, many of them slaveholders. At the same time, they relied on white women's material, domestic and reproductive labor to create homes and families there; the building blocks of permanent colonial settlement. In short, white women were indispensable to the process of settling Florida for the U.S., a process that displaced both Indigenous people and enslaved people of African descent.
 
Prof. Shire's next monograph will be titled The Women at 44 Queen Street: Gender and Labor in Early Baltimore. This book will use the women who lived in the household of Mary Young Pickersgill (at 44 Queen Street in Baltimore, Maryland, from 1807-1857) as the subjects of a microhistory on women, race, class, and labour in the early 19th century American city. The women who lived in this household were responsible for one of the most famous pieces of material culture in U.S. history: the Star-Spangled Banner. Although the flag hangs in the Smithsonian National Museum of American History, very little is known about the women and girls who created it. This book will reveal the myriad ways in which women's work – even in the age of "True Womanhood" – supported early U.S. capitalization and urbanization. It builds on my knowledge of gender and nationalist projects in the early 19th century United States, and on my longstanding love for Baltimore. 
Selected Publications
Books:
The Threshold of Manifest Destiny: Gender and National Expansion in Florida, Early American Studies series, University of Pennsylvania Press, 2016. 
This book won the 2017 Mary Kelley Prize from the Society for Historians of the Early American Republic, honoring the best book published on the history of women, gender, or sexuality in the Early American Republic. It also received the 2018 Rembert Patrick Award for the best scholarly book on a Florida history topic from the Florida Historical Society.
Op-Ed:
with Dawn Peterson, "A 'Man of His Time' and the Methods of White Supremacy: #SHEAR2020 and the Plenary Debacle," The Panorama: Expansive Views from the Journal of the Early Republic, August 7, 2020.  
Book Chapters:
"Armed Occupiers and Slaveholding Pioneers: Mapping White Settler Colonialism in Florida in Jimmy L. Bryan, Ed., Inventing Destiny: Cultural Explorations of U.S. Expansion (University Press of Kansas, 2019)
Refereed Journal Articles:
"Sympathetic Paternalism and Sentimental Racism: Feeling Like a Jacksonian," Journal of the Early Republic symposium on the "Age of Jackson," Volume 39 (Spring 2019): 111-122 .  

with Joe Knetsch. "Ambivalence in the Settler Colonial Present: The Legacies of Jacksonian Expansion," invited for Special Issue, "Andrew Jackson at 250" of the Tennessee Historical Quarterly, Vol. LXXVI, No. 3., Fall 2017, 258-275 .

"Turning Sufferers into Settlers: Gender, Welfare, and National Expansion in Frontier Florida," Journal of the Early Republic, Volume 33, No. 3, Fall 2013. 

Clark, Laurel A. "The Rights of a Florida Wife: Slavery, U.S. Expansion and Married Women's Property Law," The Journal of Women's History, Volume 22, No. 4, Winter 2010, pp. 39-63. 

Clark, Laurel A. "Beyond the Gay/Straight Split: The Socialist Feminist Community of Baltimore," National Women's Studies Association Journal, Volume 19, Number 2, Summer 2007, pp. 1-31 (based on undergraduate thesis).
Book Reviews:
"Michel Gobat, Empire By Invitation: William Walker and Manifest Destiny in Central America," Civil War History, forthcoming in Fall 2020.

"Julius Wilm, Settlers as Conquerors: Free Land Policy in Antebellum America," Missouri Historical Review, Vol. 114, No. 2, January 2020: 142-43.

"Verity McInnis, Women of Empire: Nineteenth-Century Army Officers' Wives in India and the U.S. West," American Historical Review, The American Historical Review, Vol. 124, Issue 3 (June 2019), 1043–1044.

"Julio Capó Jr., Welcome to Fairyland: Queer Miami before 1940," Journal of American History, Vol. 105, Issue 3 (Dec. 2018), 726.

"Janet Dean, Unconventional Politics: Nineteenth-Century Women Writers and U.S. Indian Policy," H-Net, H-AmIndian, August 2017.

"Deborah Rosen, Border Law: The First Seminole War and American Nationhood," Law and History Review, Vol. 34, No. 1 (2016): 237.

"Michael Gannon, editor, The New History of Florida," Journal of American History, Vol. 102, No. 3 (2015): 839.

"Sarah Woolfolk Wiggins with Ruth Smith Truss, eds., The Journal of Sarah Haynsworth Gayle, 1827-1835: A Substitute for Social Intercourse," Journal of Southern History 81 (2015): 456-457.