Michael Dove
- Assistant Professor
- Director & Internship Coordinator, M.A. Public History Program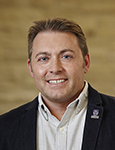 PhD, The University of Western Ontario, 2007
Telephone: 519-661-2111 ext. 84996
Email: mdove2@uwo.ca
Office: Lawson Hall 1207
Office Hours: Mondays, 1:00pm-3:00pm
Michael Dove on LinkedIN

---
Research Interests
Professor Dove specializes in public history, early Canadian history, and the business and social history of the global maritime world in the Early Modern Period (c.1500-1800). He is especially interested in the operation of commercial trading companies including the Hudson's Bay Company, as well as the growth and decline of piracy during the seventeenth and eighteenth centuries. He is currently researching the history of London's historic Labatt Park, the oldest continually operating baseball grounds in the world.
Teaching Experience
Professor Dove's teaching encompasses his interests in business history, Canadian history, maritime history and public history. At the undergraduate level, he teaches courses on the history of beer and brewing throughout world history, as well as on the history of pirates and piracy from antiquity to the present. Among other courses he has taught at Western are the Canadian history survey course, an interdisciplinary course on the sea, and a senior history course on the maritime history of the North Atlantic in the Age of Sail. Professor Dove has also held teaching appointments with Huron University College and Western's DAN Program in Management and Organizational Studies, where he taught courses on Globalization, Organizational Behaviour, and Human Resources Management.
He continues to serve as the Director and Internship Coordinator for Western's Public History Program and teaches courses in both the MA and Minor Programs in Public History.
---
Recent Projects
Professor Dove has co-authored several recent works:
"Public History in Canada: Public Service or public service?" in Paul Ashton and Alex Trapeznik, eds., What is Public History Globally? (Bloomsbury, 2019), 37-49.
Danielle Kinsey, "Take Five with Michelle Hamilton and Mike Dove," Canadian Historical Association (14 April 2019): https://cha-shc.ca/teaching/teachers-blog/take-five-with-michelle-hamilton-and-michael-dove-2019-04-14.htm
Get to Work: Crafting Cover Letters and Resumes for Emerging Professionals. Technical Leaflet #281, American Association for State and Local History (AASLH), 2018.
---
Community Projects
Professor Dove has contributed to, and supervised, several collaborative projects between Western's Public History MA/ Minor programs and community partners, including:
https://news.westernu.ca/2016/02/asking-what-brought-them-over-the-49th-2/
https://www.pier21.ca/research/oral-history/immigration-from-the-united-states-of-america-during-the-vietnam-war
https://www.pier21.ca/research/immigration-history/to-canada-and-back-again-immigration-from-the-united-states-on-the-underground-railroad-1840
https://www.pier21.ca/research/immigration-history/the-gold-rush-in-british-columbia-and-the-yukon
https://www.pier21.ca/research/immigration-history/the-forgotten-immigrants-the-journey-of-the-new-england-planters-to-nova-scotia-1759-1768
Website: A Driving Force: Women of the London, Ontario, Visual Arts Community, 1867 to the Present, with Western University's McIntosh Gallery, https://mcintoshdrivingforce.ca/
The War of 1812 Smartphone App for Southwestern Ontario Region Bicentennial 1812, with the 1812 Southwest Region of Ontario, the Tecumseh Parkway Committee, Fort Malden, the Chatham-Kent Museum, and Fairfield Museum: https://www.pressreader.com/canada/windsor-star/20120625/281569467814715
---
Selected Publications
Review: Brewed in the North: A History of Labatt's (McGill-Queen's University Press, 2019) by Matthew J. Bellamy, for The Prospectus: The Newsletter of the Canadian Business History Association (2021).
Review: A World at Sea: Maritime Practices and Global History (University of Pennsylvania Press, 2020) by Lauren Benton and Nathan Perl-Rosenthal (eds.), for Histoire sociale / Social History (2021).
Review: The Golden Age of Piracy: The Rise, Fall and Enduring Popularity of Pirates (The University of Georgia Press, 2018) by David Head, for The Northern Mariner/Le Marin du Nord. Vol. XXVIII, No. 3 (Summer 2018), 247-248.
Review: The History of Pirates (London: Amber, 2017) by Brenda Ralph Lewis, for H-Caribbean (2018).
Review: British Pirates and Society, 1680-1730 (Ashgate, 2014) by Margarette Lincoln, for H-Albion (2016).
Review: Enlightened Zeal: The Hudson's Bay Company and Scientific Networks, 1670-1870 (University of Toronto Press, 2014) by Ted Binnema, for The Historian. Vol. 78, No. 3 (2016), 559-60.
Review: Imperial Landscapes: Britain's Global Visual Culture (New Haven, Conn.: Yale University Press, 2011) by John E. Crowley, for The Canadian Journal of History/Annales canadiennes d'histoire. Vol. 49 (Spring 2014), 166-67.
Review: A Fleeting Empire: Early Stuart Britain and the Merchant Adventurers to Canada (Montreal-Kingston: McGill-Queen's University Press, 2010) by Andrew D. Nicholls, for the International Journal of Maritime History (IJMH). XXIII, No. 1 (June 2011), 358-59.
Chapter: "Plying the Northernmost Atlantic Trading Route to the New World: The Hudson's Bay Company and British Seaborne Empire," in Nancy L. Rhoden, ed., English Atlantics Revisited: Essays Honouring Professor Ian K. Steele (Montreal-Kingston: McGill-Queen's University Press, 2007), 174-205.
---
Community Service
Professor Dove sits on the Board of Directors for the Ontario Historical Society (Honours & Awards Committee) and the Museum of Ontario Archaeology (Vice-President).
---
Awards and Distinctions
The Vice-Provost (Academic Programs) Award for Excellence in Collaborative Teaching (2018)