Kenneth Duggan
- Assistant Professor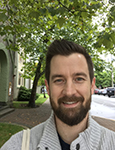 PhD, King's College London, 2017
Telephone:  519-661-2111 ext. 83645
Email: kduggan2@uwo.ca
Office Hours: by appointment, via Zoom
---
Research Interests
Medieval crime and punishment, government, law, living standards, sanctuary and abjuration, social control, and state formation.
Teaching Philosophy
My goal as a university educator is to teach students how to think both critically and independently about complex ideas, and how to analyse and use a variety of types of primary source evidence. I introduce students to many fundamental topics in medieval history but, more importantly, I also introduce them to approaches that historians use to understand the past and present, which trains them how to make informed decisions based on primary source material.
---
Current Research Projects 
I am currently engaged in two research projects. My first project examines the reasons for which people used sanctuary in twelfth- and thirteenth-century England, the degree to which the treatment of people in sanctuary by local communities and the royal government differed regionally, and if the experiences of foreigners, women and other marginalized members of society were the same as those of local men. It also explores what happened to people after they left sanctuary.
My second project examines the financial penalties that royal justices levied on local communities at criminal court proceedings, and how these penalties affected the economic condition of the peasantry. These penalties were not levied against criminals but whole communities for failing to fulfill their peacekeeping obligations when crimes had been committed. By exploring the economic and social dimensions of justice, my project will shed light on the tension in medieval law between justice and oppression. Doing so will reveal how obligations of justice and financial exactions at courts shaped the English legal system at the birth of the Common law. It will also demonstrate the extent to which encounters with justice impacted the royal government's relationship with local communities.
Selected Publications 
"Pursuit by Posse: The Capture and Execution of Walter le Pledur in Early Thirteenth-Century England", Crime, History & Society/Crime, Histoire & Sociétés (accepted for publication).
"Killers in the House of God", BBC History Magazine (January 2021), 28–33.
"The Limits of Strong Government: Attempts to Control Criminality in Thirteenth-Century England", Historical Research 93:261 (2020), 399–419.
"The Ritualistic Importance of Gallows in Thirteenth-Century England", in Crossing Borders: Boundaries and Margins in Medieval and Early Modern Britain: Essays in Honour of Cynthia J. Neville, ed. Sara M. Butler and K.J. Kesselring, (Leiden: Brill, 2018), 195–215.
"The Hue and Cry in Thirteenth-Century England", in Thirteenth-Century England XVI, ed. Andrew Spencer and Carl Watkins (Woodbridge: Boydell Press, 2017), 153–172.
Major Awards and Distintions
2018 Leonard Boyle Prize (for "Communal Justice in Thirteenth-Century England"): this prize is awarded annually by the Canadian Society of Medievalists for the most outstanding PhD dissertation in any field of medieval studies produced by a Canadian or someone resident in Canada.
2017 David Yale Prize (for "The Hue and Cry in Thirteenth-Century England"): awarded once every two years by the Selden Society to a work that has made an "outstanding contribution to the history of the law of England and Wales".
2017 Pollard Prize (for "The Limits of Strong Government"): awarded annually for the best paper in any area of research, and from any period of history after 500AD, delivered by an early career researcher at any of the Institute of Historical Research's seminar series.
Professional Service
Advisory Board Member for the Canadian Society of Medievalists (2019–present)
Prize Committee, Department of History, Vancouver Island University (2018–19)
Co-Secretary and Co-convenor, the London Society for Medieval Studies, UK (2015–17)
Co-convenor, Arts & Humanities Researchers' Society, King's College London (2012–14)
Conferences Organized
Revealing Records VII, King's College London (2016)
Revealing Records VI, King's College London (2014)