McCaffrey Seminar Series
The Bruce McCaffrey Memorial Graduate Seminar Series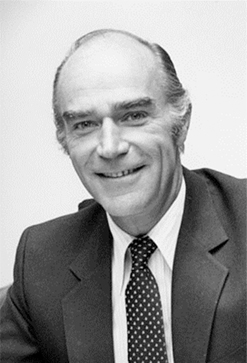 The History Department enjoys a vibrant graduate student culture, which has been energized by various students over the years. One important graduate activity is the graduate seminar series, which is organized by, and for, graduate students as a venue for their research and intellectual exchange. In 2002, the graduate students renamed their series in memory of M.A. student Bruce McCaffrey (1938-2002), whose love and enthusiasm for history reverberated throughout the department at Western.
Bruce McCaffrey left politics in 1987 and shortly thereafter relocated to London where he completed his honours upgrade and M.A. degree in History at Western. McCaffrey enjoyed studying the mid-19th century Canadian political era, with a special interest in Sir Francis Hincks (1807-1885). As a member of the history community, McCaffrey was friendly to all, with no pretensions and a great sense of humour. Fellow graduate students loved to hear his many (and sometimes bawdy) stories about the culture of politics.
Bruce McCaffrey died in August 2002 of lung cancer just days after completing his major M.A. research paper and graduated posthumously in October 2002. In memory of his spirit and enthusiasm for history, the seminar series continues to support historical research and graduate interchange.
---
2020-2021 Presenters
All workshops will be held on Thursdays at 12:30pm via Zoom, unless otherwise noted.
RSVP @ historyrsvp@uwo.ca
September 24:
Sara Poulin (PhD Candidate, Western)
"Serving Beyond the Call: Allied Jewish Chaplains and the Liberation of the Concentration Camps"
October 15:
Brigette Farrell (PhD, Western)
"Psychology and the Soldier: An Analysis of First World War Canadian Soldiers with Shell Shock and Neurasthenia".
November 12:
Rachael Young (Boston College)
"Art and argument go hand in hand:' Street art as activism in the United Kingdom, 1980-1989 "
December 3:
Ryan McLachlan (MA Candidate)
Insignificance at Sea: The Battles of Coronel and the Falkland Islands in the British Press