Goodman Lecture Series
2018 Lecture Details
Speaker: Professor Elaine Tyler May
Topic: States of Fear: How the Quest for Security has Eroded Democracy
Dates: October 2nd, 3rd, and 4th, 2018
Time: 2:30 p.m. Great Hall, Somerville House
Oct 2nd:  Sex, Women, and the Bomb: Cold War Domesticity
Oct 3rd:The Quest for Security: Fear and its Consequences
Oct 4th: The 21st Century: The Aftermath of September 11, 2001
---
About our 2018 Speaker: Elaine Tyler May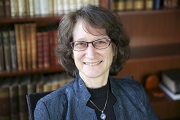 Elaine Tyler May is Regents Professor of American Studies and History, and Chair of the Department of History, at the University of Minnesota.
She is past president of the Organization of American Historians, and past president of the American Studies Association. Her books include Fortress America: How We Embraced Fear and Abandoned Democracy (2017); America and the Pill: A History of Promise, Peril, and Liberation (2010); Homeward Bound: American Families in the Cold War Era (1988, newest edition 2017); Barren in the Promised Land: Childless Americans and the Pursuit of Happiness (1997); Pushing the Limits: American Women, 1940-1961 (1996); and Great Expectations: Marriage and Divorce in Post-Victorian America (1980). She has written for the New York Times, the Los Angeles Times, Ms., Daily Beast, the Chronicle of Higher Education, and the Minneapolis Star Tribune, among others. She is a recent recipient of fellowships from the National Endowment for the Humanities and the Guggenheim Foundation.
---
Past Speakers
To see a list of our past Goodman Lecturers, click here. Many of the lectures are also available as books, please click here for a list.
---
In The News
(Sept 24, 2017) The Gazette - "Popular history comes to 2017 Joanne Goodman Lectures" [Read Article]
(Sept 21, 2016) Western News - "Making a Middle Ages connection in politics" [Read Article]
(Sept 20, 2012) Western News - "Goodman Lectures create a legacy from tragedy" [Read Article]


---
Accessibility
Contact the History Department at history-inquiries@uwo.ca if you require information in an alternate format, or if any other arrangments can make this event accessible to you. For a campus accessibility map please visit: http://www.accessibility.uwo.ca/resources/maps/index.html.
---